Discover more from The Ballketing Letter
A newsletter for those interested in the business of sports and the fitness industry. We share insights, trends and a selection of the best business content to help your brand reach the next level.
#7 The Ballketing Letter
This week, podcast episodes, virtual meetings and some great articles to improve your sport business strategy.
Wow, this was a busy week! We bring you four awesome podcast episodes but if you can only listen to one of them, then you cannot miss Carolyn Tisch Blodgett (Former Head of Global Head of Marketing at Peloton and current Strategic Advisor for the brand) on the CMO Podcast.
We also had the chance to attend a virtual meeting organized by GSIC on the impact of Artificial Intelligence on the sport industry.
Be sure to check out the wide selection of articles we have gathered this week. There are a bunch of "golden nuggets" which you can apply to your sport organization and take it to the next level.
Finally, we also published on our blog a post introducing the "Technology in Sports" series. Don't hesitate to reach out with any feedback you may have for it!
Let´s get down to business.
Podcasts
Roundtable Thinking like Retailers in the fitness space by Club Solutions Magazine
Club Solutions Magazine organized this round table where they discussed the benefits of thinking like a retailer when designing your fitness customer journey. Three main ideas stood out for us:
Thinking like a retailer in fitness should be a "strategy," not just a "tactic." It is not just about offering a new product or changing a corner of your facility temporarily. It should be about designing an overall customer experience and making sure that the entire organization is aligned to deliver it.

For example, if you are to offer apparel to your customers, do not simply launch it and forget about it. What will be your pricing strategy? Which channels will you sell the products in? How are you going to promote it? What will you do if you cannot get rid of the stock?

Every place is a destination. This is the "Disney mindset." Try to impact your customer upon every brand touch-point in a way they have a memorable experience.

Do not rule out brand partnerships with traditional retailers. Fitness organizations have traffic that retailers crave, and this may be the groundwork for a "win- win" scenario.
Spotify Podcast on State of Sport during Covid
The Spotify team put together this episode with different perspectives on how the sports industry has been impacted by Covid-19 and how podcasting has provided a positive side note for personalities and organizations to connect with their fans. In fact, Spotify has more than 100K sport podcast globally and it has experienced a 30% increase in listeners since the pandemic began.
Carolyn Tisch Blodgett on the CMO Podcast
Jim Stengel carries out, yet again, another awesome interview in the CMO Podcast. On this occasion, he sits down with Carolyn Tisch Blodgett, who is the former Head of Global Marketing at Peloton and, after its IPO, remained as Strategic Advisor for the brand.
Ms. Tisch Blodgett describes, among many other things, how she built the Marketing role at Peloton, the discussions with the founders on the eternal debate of branding vs performance and what it took to get the brand to where it is today. She even reflects on who could compete with Peloton in the next 5 years.
This is a "must" if you want to get to know one of the coolest brands out there today from behind the scenes.
eMarketer´s review on live sports TV advertising investment
On this episode, the crew discusses the impact that events related to Covid-19 on Sports TV advertising. As you can see from their graph, most advertisers are either considering putting on hold any form of investment or postponing it towards year end.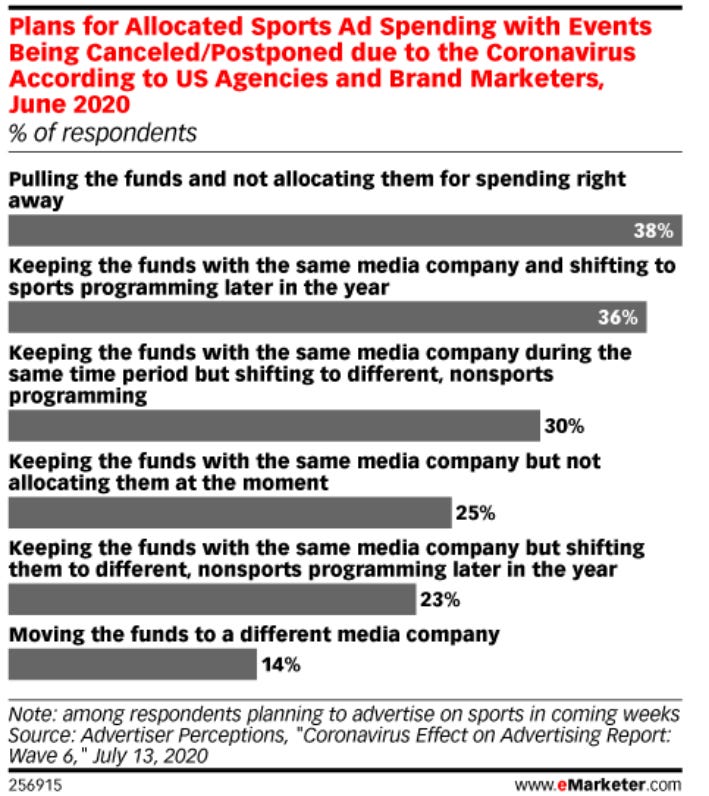 The main ideas for us were the following:
TV audiences for major competitions are decreasing due to many reasons (more competition between sport leagues for "airtime," impossibility to gather large crowds in home or bars to watch games and even low engagement from Gen Z fans)

Major events like the Superbowl though, are still expected to maintain a steady pace in advertising investment. We imagine the same will hold true for the Olympics…

Sport viewership is now fragmented among several channels, including TV, OTTs and who knows if social platforms will enter the mix in the future, so this for sure will have an impact on TV advertising.
Webinars & Virtual Meetings
The importance of AI in the sports industry by the GSIC
We had the opportunity to attend a Virtual Meeting organized by the GSIC on how Artificial Intelligence will impact the sports industry. Each business had the opportunity to present their projects to the public and we would like to provide a summary of each of them.
Edisn AI is an "AI powered fan engagement platform with state-of-the-art player recognition and contextual content delivery."
While content consumed on digital devices is customized (ie. Netflix), broadcast content is still linear. This is an issue as fans are not as engaged to sports competition anymore. The rise of mobile adoption over recent years has led to a decrease in attention spans.
In fact, NBA commissioner declared that "If the NBA does not look like Fortnite in the future, we will have a problem."
Edisn AI provides a solution in which they make the screen interactive to foster fan engagement and ultimately, monetization. For instance, a fan will be able to check stats from any given player during a game or even purchase official merchandise directly. In addition, those engagements will help develop different fan profiles, create customer segmentations, and enable delivery of personalized content.
Next up, OloCip, who is a firm founded by former professional footballer Esteban Granero, presented their AI solution which can be applied to several fields such as:
Scouting

Health & Injury prevention

Prediction of player performance in each game

Sponsorship and digital advertisement results (Predict the results of a given content)

Fan experience segmentation
Finally, Skill Corner,had the opportunity to explain their business as well, which is focused on tracking broadcast tracking data and physical data to measure sports performance during a game.
Articles
Product Strategy vs the Sales Funnel
This is an awesome article from Product Coalition where Noa Ganot invites us to reinforce our product strategy and our sales processes by adopting a "Relay Race" mindset.
On one hand, revisiting the way in which we sell or pitch our value proposition to potential customers can make all the difference. This is the opportunity to demonstrate them that our solution can solve their pain points so the better we are able to connect with them, the higher chances we will make the sale.
On the other, the product strategy is an essential part of the business model. In words of the author, which are very well articulated:
The goal of the product strategy is to clearly define the problem that the product solves and its unique value proposition. The problem needs to be a problem worth solving, which means it is prevalent enough, has a real need behind it — one that customers can and will pay for, makes sense for the business in terms of revenue forecasting against the available budget customers would have for this problem, and one that is important enough and can be explained to all stakeholders in the sales cycle.
The most critical piece of advice though, is to understand that this is an ongoing process. Once the product gets to the market, businesses need to understand how users are interacting with it and if it really satisfies their needs. Given that customer needs are rarely static, the product strategy needs to be adapted to match them and consequently, the way organizations sell them the product / service.
As a result, you will need to make sure that all members of your sport or fitness organization are aligned across all departments to ensure the customer experiences a superior unified experience.
The Kano Model
Fantastic summary from UX Collective of the Kano Model. When launching a new product or service, be sure to match the functionalities it offers with customer satisfaction. This will help identify three qualities that will help make it great:
Threshold Qualities: The basics, which help meet the customer´s expectation. For instance, a gym needs to have some basic services such as equipment, classes, staff, etc.

Performance Qualities: This usually is represented by the Unique Selling Proposition whose objective is to differentiate it from the competition. In the case of the gym this could be superior customer service, open 24h, low prices, etc.

Excitement qualities: This is where sustainable competitive advantage is achieved. For instance, is your gym able to develop a class / activity that you can trademark so no one else can do so? Does your fitness app have the best algorithm to adapt to a customer´s fitness journey?
In this sense, do not underestimate the potential of brand partnerships to deliver that excitement. If your organization can develop a bundle of services under one unique customer offering, you will be able to differentiate from competitors.
Pinterest Analytics Overview
If you use Pinterest to drive traffic for your sport organization, then you cannot miss this article on understanding Pinterest analytics and they key metrics to focus on.
Why trusting your intuition can be a difference-maker when designing your brand strategy
Valuable article from Brandingmag on why you should factor in the power of intuition to take brand strategy related decisions for your business. While the whole article is great, the following set of questions the author shared were what we most liked about it. We hope they help your sport or fitness organization design a remarkable brand strategy:
Consider answering these questions in your strategy to create a unique brand experience:

What is the context in which we live and operate our business?

What is the one thing that we want people to know when they first experience our brand?

What is the first impression that people should have about our brand?

What emotions do we want people to feel after experiencing our brand?

How can we serve them in a way that helps them cultivate this feeling?

How can we create a strong, memorable emotional experience for them?

Is this a cohesive experience across the board? If not, how could we make it more unified?
Lessons from the Jürgen Klopp Brand
This is a cool article from Marketing Examples that reviews Liverpool FC´s Manager, Jürgen Klopp, from a branding point of view. In essence, he stands for authenticity, spontaneity and tries to establish closeness this with fans.
In the end, he looks to make his fans smile and have a memorable experience. This ultimately, should be the goal of your business: Create a memorable experience that your customers will be glad to share with others…
Manchester United´s Financials Explained
We enjoyed this review of Manchester United´s financial situation provided by Joe Pompliano in the Huddle Up newsletter. It is quite interesting to see the areas in which Covid-19 has had more impact for the club which are broadcasting and match day revenues for the most part. Contrary to what some may think, sponsorship deals have not suffered given the policy adopted by the club to accept a delay in payments. Check it out!
Tom Brady looking to take his brand "global" with help from IMG.
TB12, owned by NFL legend Tom Brady has reportedly signed a deal with IMG to launch the premium health and wellness brand into international markets in pursuit of becoming a leader in the category. The brand offers a wide variety of services which include equipment, supplements and they recently launched a service of quick performance meals that are delivered to people´s homes.
That´s all we have folks! We hope you enjoyed this week´s newsletter but if there is any additional content out there that you found valuable, please share it!
We hope to see you next week. Meanwhile, keep safe.