#8 The Ballketing Letter
This week, sport business updates, business cases and great content to help you with your marketing strategy.
While we bring you content in the form of podcasts and articles from all angles in sport business, we wanted to highlight the three that most stood out for us:
Read McKinsey´s article on developing loyalty program based on ecosystems of brand partnerships.

Brandingmag has a fantastic article on the two pillars from creating brand identity.

Going more "tactical," we enjoyed SME´s episode on creating successful YouTube videos without needing huge investments to do so.
Let´s get down to business.
Podcasts
Creating videos that work on YouTube on the Social Media Examiner Podcast
If your sport organization has some form of a YouTube strategy then you cannot miss this episode of the Social Media Examiner podcast, where Michael Stelzner interviews Diana Gladley, a YouTube video expert. Ms. Gladley outlines a step by step process to create effective YouTube videos, and the best thing is you will not need special or expensive equipment to do so!
The role of a sports agent in the Hoopshype podcast
Interesting conversation on the Hoopshype podcast where Erik Kabe, from BDA Sports Management, provides some insights on his role as a sports agent and the trends in the industry. He provides an interesting perspective on the value of working with players that have solid support systems he enjoys interacting with.
Club solutions on the importance of research & data and the opportunities behind corporate wellness.
On this episode of the Club Solutions Magazine Podcast, the panel reinforces the importance that adequate research and data may have in helping gym operators reopen at a global level. IHRSA is developing, along many of its collaborators, research that supports the fact that gyms are safe environments with regards to Covid-19 in contrast to what is being portraited in the media. They even provide examples of how gyms in India were being able to reopen after convincing members of the governing bodies to visit different facilities.
On the other hand, this episode covers the opportunities behind corporate wellness programs. We liked a framework that was shared with regards on the category of services to offer potential clients:
Coaching

Challenges

Community

Classes
In addition, an interesting train of thought regarding discounting membership fees for corporations. The panel´s point of view, and one we agree with, is that when signing a corporate program, it is best to include more value within the agreement under the standard fee rather than looking for price discounts upfront.
Gary Vee discusses how to create a community with Michael Aragon, SVP of Content at Twitch
Interesting conversation between Gary Vee and Michael Aragon, from Twitch, with tactical tips on how to create communities of followers among different platforms, although with a particular focus on Twitch.
What stood out for us in this conversation is the diversification of content the platform is experiencing. Although it is primarily known for gaming related content, other type of content, such as fitness, is experiencing significant growth. Twitch, therefore, has potential to become a channel in which to engage with potential customers.
Articles
AS Monaco to sell merchandising on Amazon
AS Monaco have signed a deal to become the first French football team to sell its official merchandise on Amazon. This move, as stated by CEO Oleg Petrov, will enable them to reach its fans around Europe:
"Our collaboration with Amazon is an important step in the development of AS Monaco brand. The launch of this official page, a first for a Ligue 1 club, will increase visibility of our brand, but also facilitate access to our official products for fans across Europe."
The team, however, is not the first European football club to sign a deal like this with Amazon since Tottenham Hotspur reached an agreement with them back in August.
McKinsey on ecosystems and paid loyalty programs
We wanted to share a two fantastic McKinsey articles for those of you concerned with customer retention around your sport business.
On one hand, they explain that dynamic customers with ever-changing needs are no longer interested in loyalty programs that imply a product or service from a given company. They are looking for a wide selection of services tailored to their needs, which requires developing dynamic ecosystems driven by brand partnerships. As shown by their research, customers require benefits from 3 different angles: Emotional, Rational and Social.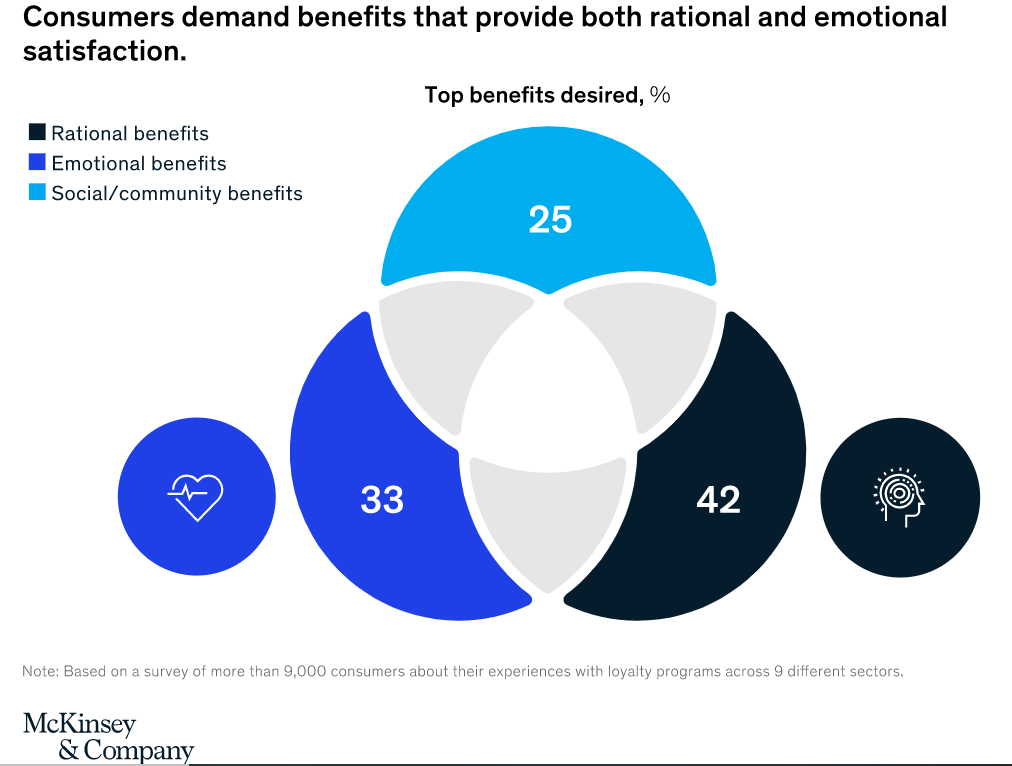 The authors then explain that there are 3 phases that need to be passed to develop a full ecosystem-based loyalty program.
From rewards & redemption to experience & content

From individual programs to connected services

From company focused to ecosystem-based
Check it out as they even outline 7 design principles to develop a successful ecosystem.
On the other hand, this article describes the benefits of paid loyalty programs for businesses with great detail and they even provide an explanation on when these type of programs make sense:
To fund rewards that may be difficult to offer more broadly because of their price or value

To retain customers from undifferentiated businesses or categories
Similarly, they describe 3 principles which would enable your sport or fitness organization to develop such a program.
These two articles look to help you maximize Lifetime Value (LTV) and they tie in quite well with our blog post on the same topic.
Designing a customer engagement strategy
This week seems to be "customer retention" week out there given the amount of great business content that has been generated. Read this article to understand how to design a customer engagement strategy.
Having a process in place that fosters conversations and memorable touch points with customers will help your organization maximize LTV. At the end of the article, the author highlights the importance of the brand voice, personalization, and authenticity as pillars for developing this strategy.
A review Peloton´s business model & Whoop´s new investment round
Joe Pompliano brings us an awesome deep dive of Peloton´s business model on his "Huddle Up" Newsletter. He tackles everything from product line diversification, churn rate, logistics…and much more!
In addition, he also gives further insights into Whoop´s new investment round in this article and a review of the service it provides.
Equinox goes into eCommerce with The Shop
Equinox looks to diversify its business with the launch of The Shop, which "brings together more than 80 brands across apparel, wellness and skin care, as well as Equinox's own branded products."
One hand, the move looks to mitigate part of the impact suffered after gyms have been forced to close down but on the other, it is a way to test new products that could potentially end up in each facility without having to incur in unnecessary logistic expenses.
Tik Tok partners with Shopify
Tik Tok has partnered up with Shopify to add shoppable video content in a move to compete with other social platforms offering similar services. So, if you have a sport apparel business or your fitness brand offers some service that can be purchased online, this is a great opportunity to link your Tik Tok content to sales.
What do you need to build brand identity?
This awesome article from Brandingmag shares some thought into the traits needed to build a true brand identity. Although there is infinite content available on the matter, two are the pillars that support a meaningful and sustainable business:
Uniqueness: What truly makes your brand different and stand out from your competition?

Expertise: Can you demonstrate to the customer that you are the best at what you do?
So, when designing the marketing plan for your sport organization, be sure to keep these ideas in mind. Remember though, that whatever you design needs to be perceived by the customer as such, since at the end of the day, this is what will define success.
That´s all for this week! We hope you enjoyed this edition of the newsletter but if there is any additional content we missed out on, please share it!
We hope to see you next week. Meanwhile, keep safe.